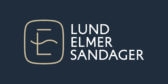 Lund Elmer Sandager is a full-service law firm dedicated to advising clients on commercial issues and legislation. As a mid-size Danish law firm, we offer a wide range of legal counselling services which are accommodated to each client, generating far-reaching results each time. Our primary activities include counselling and advising clients in connection with mergers and acquisitions, company law, IP rights, real estate, tenancy law, construction law, financing, employment law, contracts, agency and sole distributorship matters, shareholders' agreements and insolvency law.
Professional expertise, accountability, security and mutual trust are keywords for us, and our firm strives to maintain and develop a personal relationship between our client and the individual attorney to ensure case processing that is quick, efficient and financially reasonable.
Our client base is comprehensive, spanning many categories such as small sole traders, large individual proprietorships and family businesses, as well as listed companies and international groups. The business areas represented cover a wide spectrum of sectors.
Contact
Copenhagen
Lund Elmer Sandager
Kalvebod Brygge 39-41
Copenhagen, 1560, Denmark
Tel:
+45 3330 0200
| Fax: +45 3330 0299