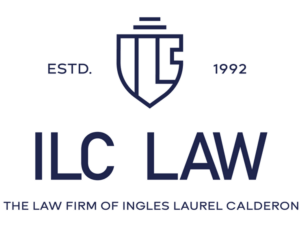 Established in 1992, The Law Firm of Ingles Laurel Calderon is a boutique law firm that assists and guides foreign investors with their safety and legal concerns in the Philippines.
Along with our legal service, we also advise in project development and represent clients before government bodies such as the Securities and Exchange Commission, the Central Bank, the Bureau of Immigration, the Board of Investments, and the Philippine Economic Zone Authority.
Our 30-year experience of serving foreign investors has given us a keen understanding of the needs of our clients. We assist clients across a broad spectrum, from software and hardware manufacturers to food processors to manufacturers of garments and car components, whether inside or outside the country's export processing zones. We have likewise established and continue to serve joint venture construction companies, tourism enterprises, and other related businesses.
Here at ILC Law, our mission is to serve the Philippines by providing its foreign investors quality legal and consultancy services.
Aside from its foreign investor-related services, ILC Law is also the premier sports and entertainment law firm in the Philippines and South East Asia. As a pioneer in sports law in the Philippines, ILC Law has helped international federations such as FIBA, world-class athletes, celebrities, professional leagues and teams, sports brands, and universities with their legal needs.
Contact
Makati City
Law Firm of Ingles Laurel Calderon
Suite 7A/B, The Valero Tower, Valero Street, Salcedo Village
Makati City, Metro Manila, 1227, Philippines
imdingles@ilclaw.com.ph
Tel:
+63 288 129 333