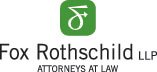 Fox Rothschild LLP is a national, Am Law 100 firm with 950 attorneys practicing from offices coast to coast, throughout the United States. We've been serving clients for more than a century and are steadily growing, now offering services in more than 70 practice areas from 29 offices.
Our lawyers provide a full range of legal services to public and private companies – from family-run businesses to multinational corporations. We also represent nonprofit, health care and educational institutions located in the U.S. and internationally.
Fox Rothschild serves a diverse range of clients who value our commitment to delivering exemplary service and practical advice. We know clients want more than quality work, so we focus on providing guidance that is in context — based on an understanding of their circumstances, goals and objectives — and that is innovative yet actionable. Our practical-minded approach is reflected in what we consider the best compliment we've received from clients: We treat their issues and their businesses as if they were our own.
Contact
Philadelphia, PA
Fox Rothschild LLP
2000 Market St. 20th Floor
Philadelphia, PA, 19103-3222, USA
Tel:
+1 215 299 2000
| Fax: +1 215 299 2150
Pennsylvania