Duan & Duan is a leading full-service law firm founded and headquartered in Shanghai, with 25 offices across China and a few outposts in Europe, the United States and other parts of Asia. Lawyers at Duan & Duan are well-equipped to advise clients on complex legal, tax, regulatory and compliance issues involved in their cross-border transactions and domestic M&As and other business activities.
We provide high quality, efficient and solution oriented services. Armed with over 30 years of experience in practicing law in China, lawyers at Duan & Duan advise clients on cross-border investment and corporate transactions involving China, represent clients in litigation in Chinese courts and arbitration proceedings before both international and China-based arbitration institutions, design and implement strategies for protecting clients' intellectual property, counsel clients in labor and employment matters, assist clients in maritime law matters and serve clients in respect of their other legal needs.
In cross-border investment transactions, Duan & Duan lawyers advise clients in a full spectrum of transactions involving all major industry sectors. Our lawyers counsel clients on: establishing Sino-foreign JVs, wholly foreign-owned enterprises, China representative offices of nonresident companies. Partners in our foreign direct investment practice specialize in general corporate, venture capital and private equity investment, financing, corporate and tax restructuring, cross-border M&As.
Our legal and tax experts have advised multinationals on their reorganization and tax restructuring of China operations. We have also acted as outside general counsel for Chinese State-owned and privately-owned enterprises, in their investment overseas, and arbitration, litigation and other legal or administrative proceedings relating to their investments in the host countries.
Recognition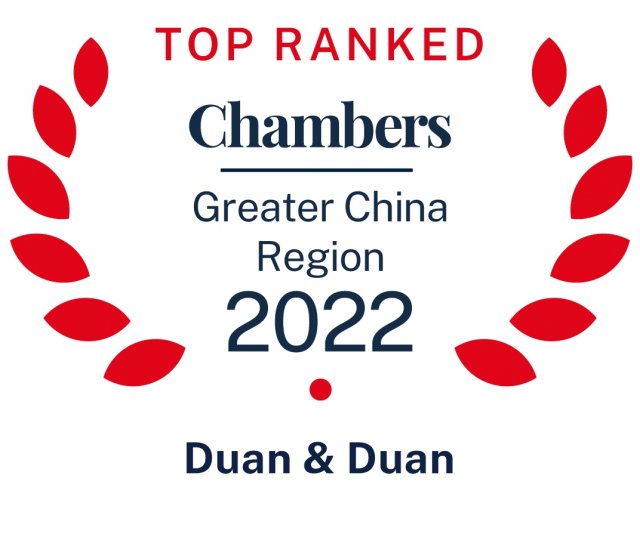 Contact