Quevedo & Ponce was founded in 1941 by doctor Antonio Quevedo, together with his colleagues Alfonso Moscoso, Eduardo Serrano and Wilson Córdova. For over 82 years of uninterrupted work, the firm has provided legal services with honesty, efficiency, and unwavering professional commitment.
Today, together with a new generation of lawyers, we look towards the future with integrity, closeness, innovation, and leadership, to strengthen a team of individuals who believe in justice and law enforcement. . They share our passion for service, which is the most suitable way to honor the trust our clients place in us.
There are fundamental aspects that characterize us and will continue to be the pillars of our joined efforts, , such as the devotion and dedication to the practice of Law; the clear and transparent practice of advocacy against all kind of corruption; the ability to approach each case by developing specific strategies, providing effective solutions tailored to the needs of our clients and the engagement in deep research in order to develop the best solutions
We have fought always against corruption that now days is well established in the Courts, as the result of the approval of the 2008 Constitution.
Our offices are located in Quito, Guayaquil, Cuenca and Tulcán .
Recognition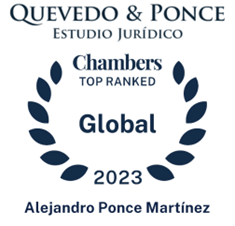 Contact