Link Legal is a leading full-service law firm in India with extensive experience in advising clients on complex matters and disputes in diverse practice areas and sectors. The firm's client base comprises India's leading business groups, public sector undertakings, public and private sector banks, and international companies operating in India.
The firm is distinguished for its client-centric approach and fostering a valued strategic business partnership to meet their legal and business needs. The firm provides bespoke legal counsel to its clients in structuring transaction, handling disputes, regulatory matters and other regular corporate advisory, thus enabling the Firm to be recognised as a trusted adviser not merely for its expertise, but also its experience and knowledge across multiple disciplines and jurisdictions.
The firm is consistently recognised for its quality work and highly rated by clients, peers and leading global publications, including RSG, Chambers & Partners, IFLR 1000, India Business Law Journal, Legal 500, among others. The firm also has a robust China, Japan and London Desk to serve its clients globally and is fast progressing towards being one of the top firms in India, widely known and recognised internationally.
A few recent prominent accolades of the firm include:
• Recognised one of the 'Best Brands' at the Economic Times – Best Brands summit 2019
• Runner-Up in 2019 and Winner in 2018 in the "Best Law Firm of the Year – Large" category at IDEX Legal Awards
• Ranked as one of the Top 20 Law Firms in India by RSG Consulting
• Firm is ranked at #13 in the Top 50 Indian law firms by Asia Legal Business under the head Southeast Asia: India
• 'Firm of the Year (Asia Pacific)' by Globalaw – a premier international network of over 110 independent law Firms across 95 jurisdictions
• Firm was amongst the Top 10 Legal Advisors to Private Equity & Venture Capital transactions in the Venture Intelligence League Tables for 2018
• Firm is ranked at #17 in India's Top 20 M&A Firms in Mergermarket's M&A Global Report 2017
• Firm is ranked at #3 in terms of Deal Value and at #5 in terms of Deal Volume in the rankings of PE Top Legal Advisors released by VCCEdge for the Quarter 3 of 2018
• Globally ranked #6 in the Global Project Finance Adviser Rankings, under the category PFI/PPP Project Finance Volume rankings, 2018
• Recommended highly in Aviation, Antitrust and Competition, Banking and Finance, Corporate and M&A, Construction, Infrastructure, Projects & Energy, Dispute Resolution, Restructuring and Insolvency, TMT, Investment Funds, Labour & Employment, Shipping and Maritime by various directories including Chambers and Partners, Legal 500, IFLR1000, Benchmark Asia-Pacific, Asialaw
Recognition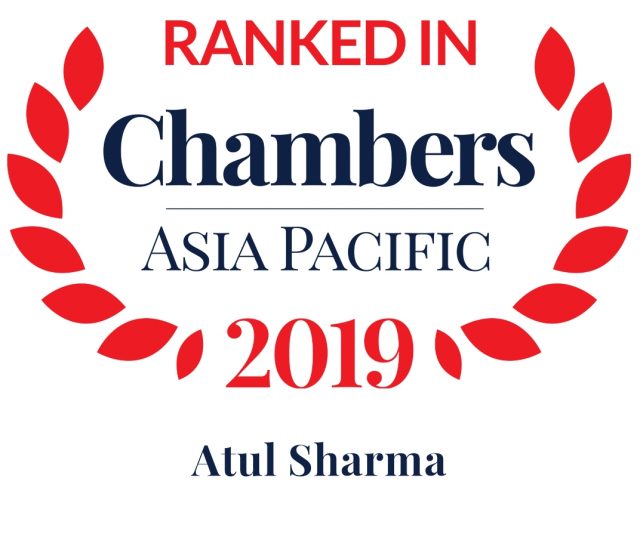 Contact
New Delhi
Link Legal India Law Services
Thapar House, Central Wing First Floor 124 Janpath
New Delhi, 110 001, India
Tel:
++9111 4651 1000
| Fax: +9111 4651 1099