24 Sep 2018
DeWitt Ross & Stevens Recognizes Laura M. Davis as 2018 Jack DeWitt Pro Bono Award Recipient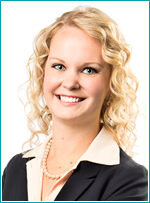 MADISON | BROOKFIELD | MINNEAPOLIS – DeWitt Ross & Stevens S.C., and its affiliate DeWitt Mackall Crounse & Moore S.C., announced today that attorney Laura M. Davis of its Madison office has been named the 2018 recipient of the Jack DeWitt Pro Bono Award. Each year, the award recognizes one attorney or team of attorneys in the firm for their pro bono efforts.
Davis' passion for pro bono legal service began in undergraduate school where she volunteered as a Court Appointed Special Advocate (CASA). Her service continued in law school where she worked for the Wisconsin Innocence Project and received the Melvin Friedman Memorial Scholarship for her outstanding work in the role.
In addition to her pro bono service, Davis has played an intricate role in establishing a formal Pro Bono Policy and Committee within the firm, to centralize pro bono activities that currently exist.
"Laura's passion and dedication to helping those of limited means is second to none," said Bradley Fulton, President & Managing Partner at DeWitt. "Her ongoing pro bono service is commendable, and we are honored to name her as this year's award recipient."
The pro bono award is named in honor of Jack DeWitt, a founding partner of DeWitt Ross & Stevens S.C. who passed away in 2012 at the age of 93.