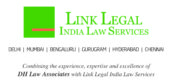 Link Legal India Law Services
India
www.linklegal.in Number of attorneys: 34 Partners, 120 Associates
Link Legal India Law Services is a full-service law Firm with offices in Delhi, Mumbai, Bengaluru, Gurugram, Hyderabad and Chennai and with a team of 34 partners and more than 120 associates. The Firm was established in 1999. Link Legal India Law Services and another full-service law firm DH Law Associates merged their practices with effect from January 1, 2017 and the merged entity continues to be known as Link Legal India Law Services.
This combined entity is amongst the top 15 law firms in India in terms of size, with offices in six cities. Our association with Globalaw – a premier international network of over 110 independent law firms across 95 jurisdictions allows us to service our clients globally.
The firm provides partner driven specialised legal services to a wide clientele – including some of India's leading business groups, public sector undertakings, public & private sector banks, and multinationals across jurisdictions of United States, Europe, MENA and Asia.
The Firm has extensive experience in advising clients on complex issues pertaining to infrastructure, private equity, mergers and acquisitions, debt and capital markets, project financing, taxation, litigation, arbitration and mediation and contract management.
The Firm provides assistance in formulating and implementing entry strategies. The firm is involved in major headline transactions, representing clients on most intricate matters and disputes in diverse practice areas and sectors including airports, metro rail and urban transport, roads, ports, real estate, power, aviation, water, waste management, media, pharmaceutical, information technology, consumer goods, mining, insurance and banking.
Recognised for their expertise, the partners at the firm bring hands-on experience and approach each transaction from a strategic perspective. Most of the Partners are recommended for their expertise particularly in Aviation, Banking & Project Finance, Dispute Resolution, Employment, Infrastructure, Media & Telecommunications, and Real Estate.
The Firm has been recently adjudged as
Rank #1 in Asia (excluding Japan) and Australasia in Project Finance League Table – Dealogic Rankings (January 1- December 31, 2016);
Consistently ranked as a Band 1 Firm in the Projects, Infrastructure and Energy practice;
Consistently ranked as "Best Law Firm – Aviation" and "Best Law Firm – Energy, Projects and Infrastructure" by India Business Law Journal;
"Project Finance Law Firm of the Year – 2016 – India" by Global Law Expert;
"Best Full Service Law Firm – India & Recognised Leaders in Corporate Law – India 2016" by APAC Insider.
CHINA PRACTICE
China Desk ("CD") of Link Legal India Law Services is the oldest practice group of its kind in the Indian legal market. CD has advised more than 100 clients on their investments in India since 2010 which includes landmark transactions in Sino-India deals.
Primary Office:
New Delhi, India
Thapar House, Central Wing,
First Floor, 124 Janpath,
New Delhi 110 001, India.

Principal Contacts:
Atul Sharma (Managing Partner)
Tel +91 98110 55984
Mumbai, India
21/22, 2nd Floor
111, Free Press House,
Free Press Journal Road,
215, Nariman Point, Mumbai - 400 021.

Principal Contacts:
Nusrat Hassan (Co-Managing Partner),
Tel+ 91 9892742700