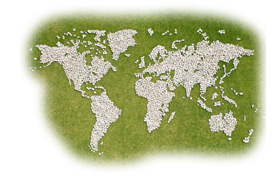 About Membership
Lexwork International enjoys a long-standing membership base. Our retention rate is over 90 percent and our growth is carefully planned. New members are admitted only when the appropriate candidate firm has been identified, vetted and approved the current members.
Typically new members are identified after one or more existing Lexwork member firms have experienced a positive working relationship with or have personal knowledge of the candidate firm. However, interested firms are encouraged to contact the chairman of their geographical area for any questions they may have about membership. Contact information is below.
Because of the referral nature of Lexwork, in addition to a high level of legal knowledge, the ability to deliver exemplary client service and the willingness to take an active role in Lexwork meetings are highly valued.
Lexwork Europe & Asia

Europe/Asia/Africa/Australia:
Derek McCulloch
Gillespie Macandrew LLP
Tel: +44 (0) 131 260 7532
Email Derek

Lexwork Americas

North, Central and South America:
Ron H. Levy
De Grandpré Chait
Tel: 514.878.3251
Email Ron
Organization
Lexwork International is, for administrative purposes, divided into two geographical components. Lexwork Europe & Asia includes member firms in Europe, Asia and Pacific. Lexwork Americas includes member firms in North America, Central America and South America. Each group has a congenial atmosphere which encourages the practitioners from each of the independent law firms to collaborate professionally and socially in an effort to encourage the exchange of high quality legal services throughout the network for the benefit of clients.
The central administration of Lexwork International is undertaken by a coordinating committee composed of three lawyers from Lexwork Europe & Asia and three lawyers from Lexwork Americas which meet in person twice a year in addition to quarterly conference calls.
Meetings
Annual meetings including all member firms are held in the autumn, once a year, alternating between Europe and the Americas. Additionally, both Europe and the Americas often schedule in-person meetings in the spring. These in-person meetings complement regularly scheduled conference calls and provide an opportunity to network with representatives from other member firms and to participate in discussions on topics of interest. A number of working groups also exist which hold regular conference calls to discuss their area of interest. All meetings and conference calls are conducted in English.
Benefits of Membership
Membership in Lexwork International allows member firms:
to meet the international requirements of their clients
to increase their profile
to gain new business by:

raising their international capabilities through cooperation with other member firms of Lexwork International.
promoting Lexwork International and its member firms through this website.
providing a network of member firms to whom referrals can safely be made, with the knowledge that the recipient will provide quality legal services at reasonable cost.
promoting initiatives whereby member firms can work together, such as joint publications on legal topics of common interest and joint tenders for business.
sharing knowledge to assist member firms to develop additional expertise.
sharing information on law firms to whom referrals have been made outside the territory covered by Lexwork International.